Homemade Dog Food Recipes For Yorkies
---
Cooking For Your Yorkshire Terriers
The great thing about making your own Yorkie treats is that it is so much healthier for your Yorkies. These recipes have no chemicals or BHA or BHT in them. BHA and BHT are regularly used in pet foods for preservation (shelf life). Studies have actually linked BHA and BHT with liver and kidney dysfunction and also cancer. See more on this topic in Yorkie Nutrition.

For additional recipes for your yorkie puppies see yorkie puppies recipes.
---
YORKIE MEAT AND GRAIN MENU
2 cups cooked brown rice
2/3 cup lean beef
2 teaspoons lard -- or veggie oil
1/4 cup vegetables -- no onion

*Supplements Mix the above. You can cook the meat if you choose to, use your own judgment. Serve slightly warm. *For supplements, add 2 tsp. of daily powder and 1 tsp. daily oil mixture (see at left of page for these recipes). This is for a 5 lb. dog. Can be doubled for puppies.
---
HOME COOKED MEALS
This is a bulk recipe for those with more than one dog who want to feed well balanced home cooked food.

Approx. 5 lbs. of ground lean beef or lean chicken
3/4 cup canola oil
4-5 cloves garlic
32 cups water
8-10 cups processed veggies (various)
(carrots, celery, broccoli, cauliflower, bean sprouts, potatoes, sweet potatoes, red peppers, spinach, beets, lettuce, tomatoes, etc.)
NO ONIONS (not good for dogs)
2-3 cans kidney beans
1/2 molasses (optional)
42-45 oz. oatmeal (quick cooking oats)
Eggs can be added to boost protein

In a large 24qt pot brown ground meat, add canola oil and garlic. When well cooked, add water. Bring to boil, then add veggies that have been processed, (frozen or canned veggies will work too). I use dried kidney beans and soak them the night before preparing a batch of food. While I am cooking the meat I have the beans in another pot cooking them. Once cooked, they are added to the above mixture. Next, the oatmeal is added. Frequent stirring is necessary at this point as the mixture will stick. Remove from heat, cool and put into containers. The above mixture feeds 7 Yorkies for 1 week. I occasionally add pumpernickel bread and sometimes substitute brown rice for some of the oatmeal. This recipe is very flexible. I also add a mixture called Healthy powder to each meal. I feed twice daily and add 1 tsp. of healthy powder to each meal for each dog.
---
YORKIE GOULASH
1 pound ground beef *see Note
2 cups cooked brown rice
2 cans vegetables *see Note
2 whole eggs
1 can mackerel, canned
2 cloves garlic minced
1 pound chicken liver or gizzards

Pulverize veggies, either in a blender, processor, grinder, etc. Mix all ingredients together in a big pot. Add enough water to cover, mix well, if you feed raw, which you can do, place into containers or baggies, enough for one feeding in each and freeze. Simply get out in the morning to thaw in the fridge.

Note: ground beef, ground turkey, ground venison, etc.

Note: fresh veggies (about 3 cups) broccoli, asparagus, sweet potatoes, green beans, carrots, spinach, kale, CUT UP.

Dogs get this every evening for dinner, with 1/4 to 1/2 cups of kibble mixed in, depending on size of you Yorkie. Feed 1 cup per 7 lbs.


---
YORKSHIRE TERRIER LAMB DINNER
1 pound lamb, ground, cooked - can be substituted with venison or or ground meat.
2 cups cooked brown rice
2 cups cooked white rice
1 cup yogurt, skim milk
4 cloves garlic, crushed
1/4 cup green beans frozen, chopped
1/4 cup carrots, frozen, chopped
1/4 cup kale, frozen, chopped

Cook lamb and drain off excess fat if desired. Defrost frozen veggies but don't cook them and chop to desired size.

In a large bowl mix cooked lamb, cooked rice, chopped vegetables, garlic and yogurt. Slightly heat if desired to serve.

Refrigerate of freeze portions in zip lock bags. Should yield 3 to 6 servings.

---
BREAD MACHINE YORKIE YUM YUMS (DOG BISCUT)
3/4 cup Beef stock -- *see Note
1 egg
3 tablespoons oil
1 cup all-purpose flour
1 cup whole wheat flour
1/3 cup Bulgur -- *see Note
1/3 cup Bran
1/4 cup nonfat dry milk
1/4 teaspoon Garlic powder
1 1/2 teaspoons yeast
Place ingredients in bread pan according to manufacturers directions and press "Dough" cycle. When machine beeps, remove dough to lightly floured counter-top and with a rolling pin, roll dough out to 1/4" thickness. Using a dog bone cookie cutter (or any small seasonal cookie cutters), cut out dog biscuits and place on a lightly greased cookie sheet or one sprinkled with cornmeal. Re-roll scraps and repeat till all dough is used up. Place in a warm location and let rise 30 minutes. Bake at 325 for 30 minutes until brown and no longer soft. Place on a rack to cool. Store in an airtight container. * Chicken, Vegetable Or use hot water and 2 or 3 -bouillon cubes.
**If you don't have bulgur try substituting something like a 7-grain cereal.
---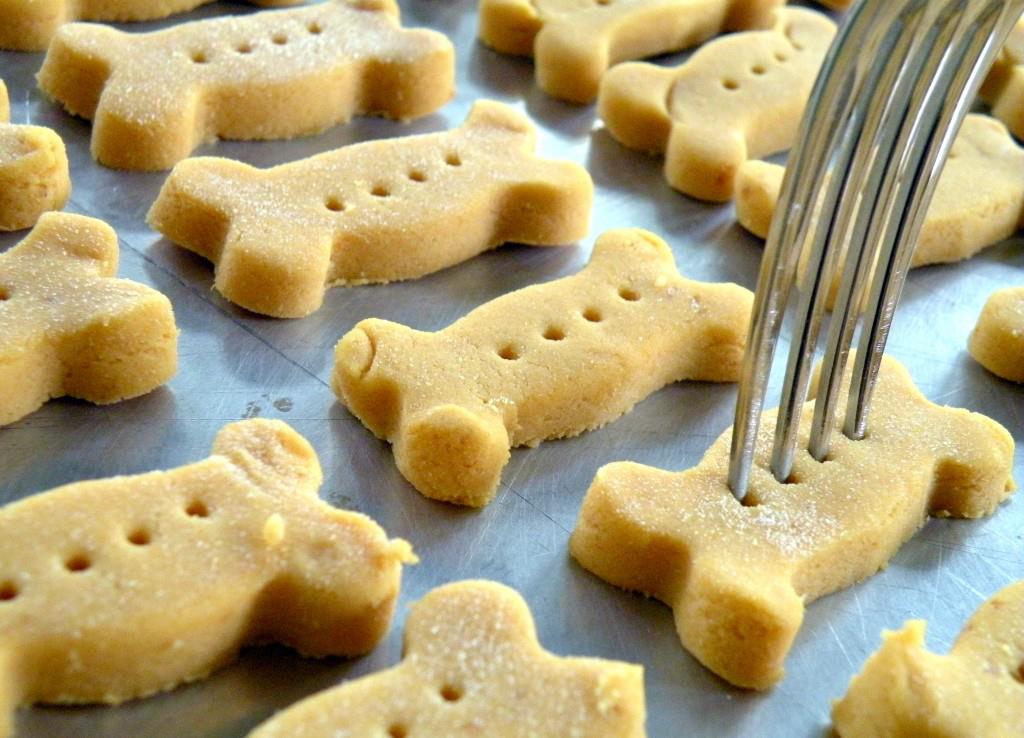 PUMPKIN DOG BISCUITS
2 eggs
1/2 cup canned pumpkin
2 tablespoons dry milk
1/4 teaspoon sea salt
2 1/2 cups brown rice flour *
1 teaspoon dried parsley (optional)
Preheat oven to 350.

In large bowl, whisk together eggs and pumpkin to smooth. Stir in dry milk, sea salt, and dried parsley (if using, optional). Add brown rice flour gradually, combining with spatula or hands to form a stiff, dry dough. Turn out onto lightly floured surface (can use the brown rice flour) and if dough is still rough, briefly knead and press to combine.

Roll dough between 1/4 to 1/2 inch – depending on your dogs chew preferences, – and use a biscuit or other shape cutter to punch shapes, gathering and re-rolling scraps as you go. Place shapes on cookie sheet, no greasing or paper necessary. If desired, press fork pattern on biscuits before baking, a quick up-and-down movement with fork, lightly pressing down halfway through dough. Bake 20 minutes. Remove from oven and carefully turn biscuits over, then bake additional 20 minutes. Allow to cool completely on rack before feeding to dog.

* Brown rice flour gives the biscuits crunch and promotes better dog digestion. Many dogs have touchy stomachs or allergies, and do not, like many people I know, tolerate wheat.

Makes up to 75 small 1 inch biscuits or 50 medium biscuits.
---